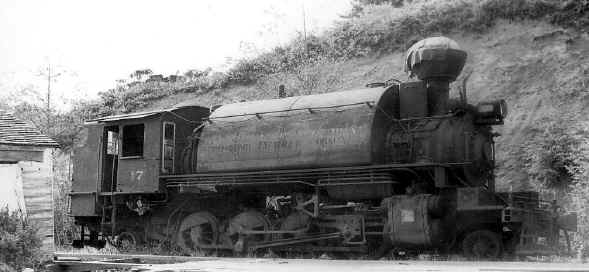 Soon after delivery of the locomotive to the Crossett Western Company of Wauna, OR in 1929, much of the Crossett timber lands were involved in the series of major forest fires known as the Tillamook Burn. The little saddle tank engine worked throughout the 1930's and early 40's hauling out the salvaged timber from the burn.
In 1942 the locomotive was sold to the Hammond Lumber Co. of Samoa CA. and renumbered as #17. Once again fire played an important role in it's life when, in 1945, a large fire burned out a series of trestles while the locomotive was sitting in a woods logging camp known as "The Gap" It was determined that the cost to rebuild the trestles was too great and #17 was left sitting in the middle of the camp unused for years.
In 1965 a local mill owner named Gus Peterson purchased #17 from its current owner Georgia Pacific. Mr. Peterson built a road into the old campsite, dismantled the engine and trucked it out piece-by-piece. Mr. Peterson quickly went to work reassembling and restoring her to operation. On September 27, 1966 #17 operated under her own power for the first time since the forest fire of 1945 and for the next few years operated on Mr. Peterson's tourist line known as the Klamath & Hoppow Valley RR.
The gasoline shortages of the 1970's spelled the end of the Klamath & Hoppow Valley and the #17 was mothballed again. In 1980 it, along with 2 other locomotives were sold to Tacoma lumberman Tom Murray Jr. Mr. Murray had the 17 disassembled and shipped by truck to Tacoma, WA. and then sent on to the shops of the Mount Rainier Scenic RR.
During the 80's the #17 sat outside the shops while restoration work on other locomotives progressed. Work finally began in 1994 and finally in January 1995 a fire was lit in the #17's boiler and she joined the other operating locomotives of the Mount Rainier Scenic Railroad. To this day she is a mainstay of the summer operations of the Railroad.
Specifications:
This 85-ton "Minaret" type Mikado rod engine was built by the American Locomotive Co. (ALCO) for the Crosset Western Company in Wauna, Oregon.
Construction Number: 68057

Date: September, 1929

Cylinder Size: 18 X 24

Boiler Pressure: 190 lbs.

Drivers: 44"

Weight: 85 tons

Tractive Effort: 28,500 lbs.
Ownership History:
Crossett Western Company (#11) – Wauna, OR

Hammond Lumber Company (#17) – Samoa, CA

Georgia Pacific (#17) – Samoa, CA

Gus Peterson Lumber Company (#17) – Klamath, CA

Mount Rainier Scenic Railroad (#17) – Mineral WA
Photographs and information courtesy of Martin E. Hansen