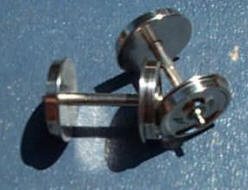 Model locomotives that have nickel-plated wheels sooner or later show wear. This wear, if not checked, will leave a groove in the softer brass that exists under it. Our nickel plating service restores the hard bright nickel finish and looks like new finish, provided the softer brass under it has not been damaged. We also nickel plate brass wheels that have never been plated before.

The price of the nickel plating service is based on a set of two wheels. If you have additional questions, feel free to contact us in advance of your order. Please send only the wheels; do not send the entire model.

Please send a send a message to David Barron for pricing information.

---
This PFM Class C Climax originally had brass wheels, then they were nickel-plated. After plating, the wheel sets will be returned to you for your reassembly. If special painting of the wheel centers is required, after plating, it is the shipper's responsibility.