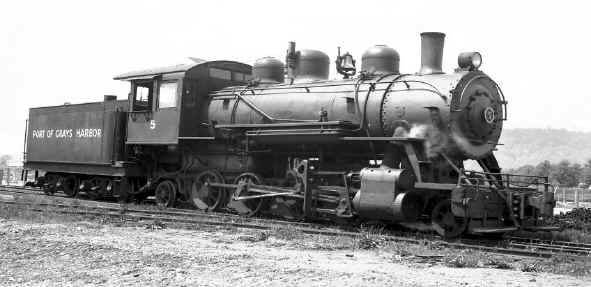 Long known for building durable small industrial steam locomotives, the H.K Porter Co. of Pittsburgh, PA had also supplied early loggers with light locomotives for use in the logging industry. During the first part of the 20th Century Porter only built little saddle tank locomotives for use by Northwest loggers.
By the 1920's loggers needed larger more powerful locomotives to haul longer trains. Porter decided to try and compete in this market and began building larger 2-6-2 Prairie tender - type locomotives and then 2-8-2 Mikado tender-type locomotives.
Our Porter #5 is one of the largest Porter locomotives ever constructed. She was ordered new by the Carlton & Coast Railroad to haul logs out of the Oregon Coast Range down to the town of Carlton, Oregon. In 1940 the C&C RR was abandoned and the big Porter was sold to the Port of Grays Harbor to use in switching the docks in Hoquiam, Washington. The Port changed her road number to #5. When the Port switched to diesels the #5 was put up for sale.
While most steam locomotives retired in the 1950's were scrapped, #5 was more fortunate. The Schafer Brothers of Brady, Washington who had operated a huge logging operation in the Montesano, Washington area since the early 1900's, purchased her.
In 1950 the Schafer Brothers sold out to Simpson Timber Co. of Shelton, Washington. All the Schafer Brothers locomotives were included in the sale. Since Simpson Timber already had a logging railroad of their own, Simpson scrapped the Schafer Brothers locomotives.
Fortunately after retiring from the logging business, the Schafer Brothers repurchased the #5 to display on their game farm at Montesano. However, by the early 1980's #5's condition had deteriorated considerably due to her years out in the salt air and the Schafer's sold #5 to the Mount Rainier Scenic RR.
The #5 was restored by the MRSR in the early 1980's. A Vanderbuilt-style tender that had once served the Northwestern Pacific RR in California was acquired and is currently used behind this unique piece of logging history. Because of her power and durability, Porter #5 has been one of the main workhorses for the MRSR since returning to service. She is currently schedule for major undercarriage work in 2004 or 2005.
Specifications:
This 70 ton Mikado was built by the H. K. Porter Company of Pittsburgh, PA for the Carlton & Coast RR:
Construction Number: 6860

Date: February, 1924

Weight: 70 Tons

Cylinder size: 18" X 24"

Driver diameter: 45"

Boiler Pressure:

180 lbs.

Length: 56'

Tractive Effort: 26,435 lbs.
Ownership History:
Photographs and information courtesy of Martin E. Hansen