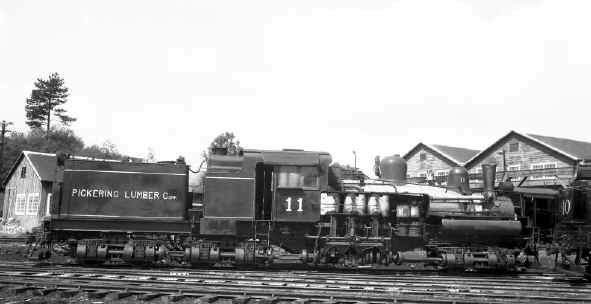 From the turn of the century until the early 1920's the Lima Locomotive Works of Lima, Ohio had dominated the logging locomotive field with their Shay locomotives. Named after its inventor Ephram Shay these geared engines were ideal for the steep grades and twisting track used by loggers in the woods. By 1922 many of Lima's original Shay patents had expired which prompted the Willamette Iron & Steel Works of Portland Oregon to start building a nearly exact copy of the Shay.
When Lima started to lose sales to Willamette in the mid – 1920's they decided to come out with a new Shay as a direct competitor to the Willamette. Thus was born Lima's "Pacific Coast Shay". Lima build the first of these Pacific coast Shays in 1927 and displayed it at the Pacific Logging Conference in Seattle, Washington. Over the next 3 years Lima sold 27 of them in the Northwest and drove Willamette out of the market for good.
Shay #11 was originally built in 1929 for the Forest Lumber Company of Pine Ridge, OR as their #5. She was ordered with an extended oil bunker to give her greater range between fuel stops. In late 1940, when Forest Lumber shut down, she was sold to the Pickering Lumber Corp. of Standard, CA as their #11. In early 1941, soon after she was delivered to Pickering, she was caught in a roundhouse fire and badly burned. After the fire Pickering decided she was not worth fixing and planned to scrap her. When WW II started and the lumber market picked up in strength, Pickering re-thought their decision and went ahead and rebuilt #11. She served Pickering in log train service until late 1964 when Pickering converted to diesel locomotives.
#11 was sold in 1966 to a rail fan in California and trucked to a railroad museum in Rio vista, CA where she occasionally operated. In 1969 she was bought by Gus Peterson (who also owned our #17 and Heisler #10). Gus planned to bring #11 to his rail operation in Klamath, CA but the gas crisis of the early 1970's ended those plans. In 1981 #11 was purchased by the MRSR and brought to mineral, WA where she was returned to operation in the early 1990's.
Of the 27 Pacific Coast Shays built by Lima only 5 survive. Of these #11 is one of three that still operate.
Specifications:
This 90 ton 3-truck Pacific Coast Shay was built by Lima in 1929 for the Forest Lumber Company of Pine Ridge, OR.
Construction Number: 3327

Weight: 95 tons loaded with fuel

Cylinder size: 13 X 15

Drivers: 36"

Boiler Pressure: 200 lbs.

Tractive Effort: 38,200 lbs.
Ownership History:
Photographs and information courtesy of Martin E. Hansen